Summer Interns at the Institute on Disability
Summer Interns at the Institute on Disability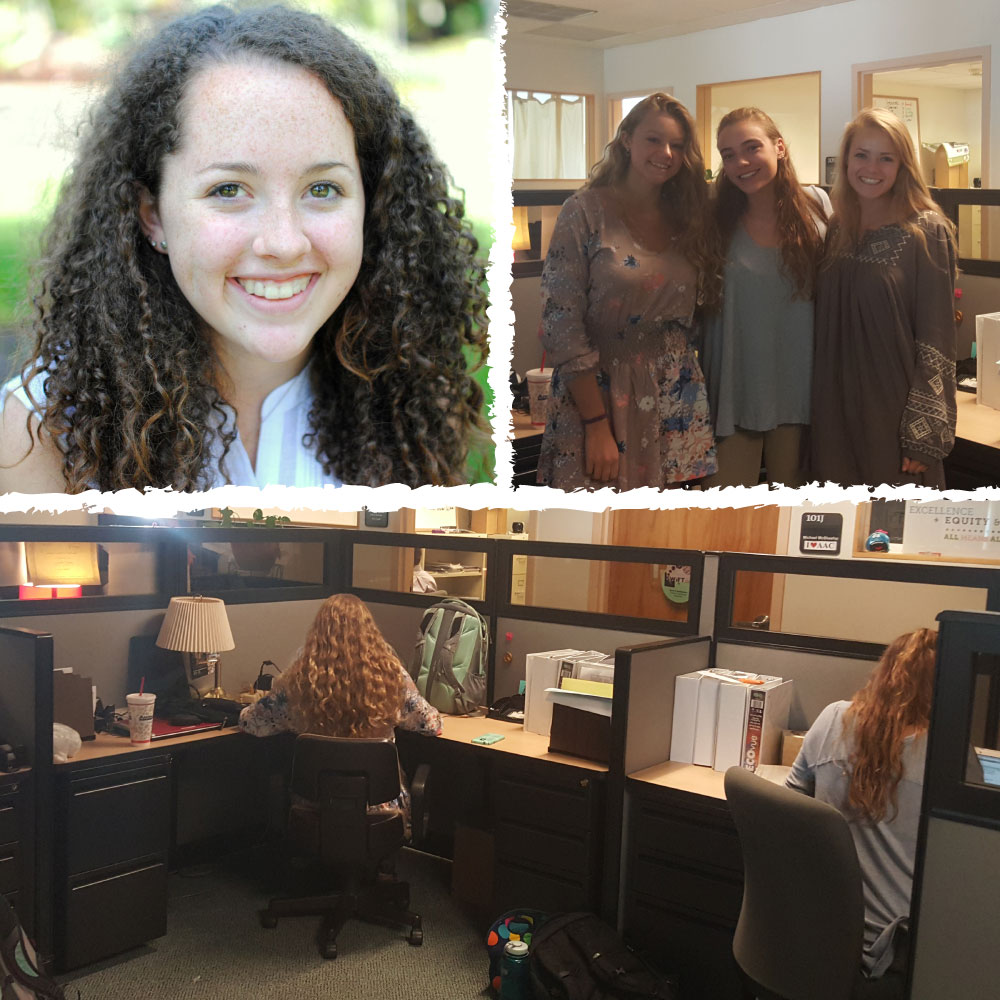 This summer the Institute on Disability has been unusually crowded, having many new faces in the office. While the IOD has often been host to work study students from UNH, this summer we piloted a small internship program hosting a college student and three high school interns, each of whom were working on a few different projects.
The interns all worked with the New Hampshire Disability and Public Health Project.
"I decided to work here this summer because I was given an opportunity to and could not pass it up," shares high school intern, Greta Danielson. "I have always been interested in UNH and this internship provided me that chance to get a feel for the campus as well as other aspects of the school."
The college student, Molly Thibault, a senior at Mount Holyoke College, spent her summer first creating an Outcome Assessment Report highlighting project activities and interviewing project participants and partners. She then created an Outcome Assessment Reporting Tool, which is a how-to guide on creating the report. The report was then used by the IOD's high school interns to replicate the process for the NH-ME LEND program, the New England Genetics Collaborative, and the CEI-KT project.
Two of the high school interns--Devan McClain and Bridget Danielson--will be traveling to Australia to attend the International Association of the Scientific Study of Intellectual and Developmental Disabilities Conference. Their time at the IOD this summer has been spent working on projects that relate to the presentations they will be attending at the conference.
This first summer's internship program resulted in valuable products for some of the IOD's programs, as well as in benefits to the participants.
"I've learned so many important skills throughout the few short weeks I've been here," explains Devan. "Coming into the IOD (Institute on Disability) I had no previous knowledge of the program, but I'm now leaving having completed this report feeling like a door into the medical field of disabilities was open."
"Aside from all the information I learned from the projects themselves, I gained a lot of valuable experience," shares Bridget. "Going forward I feel like I know how to talk to people, such as the cold calls, and I feel like I have some real life experience especially in an office doing things that most people my age won't do until college."
"My internship at IOD has solidified my interest in the fields of disability studies and public health and has exposed me to the many ways a personal interest and academic background in those fields can translate into a professional career," explains Molly. "I'm excited to take related classes when I return to school this Fall, and then to continue working in these fields once I graduate."
We look forward to hosting more interns in the future.