About
New Hampshire has achieved national recognition for its innovative approaches to supporting people with disabilities and family members within their communities and fostering communities where everyone belongs.
Substantial positive changes have taken place in New Hampshire and many of these changes are a direct result of work by leaders who have graduated from the New Hampshire Leadership Series.
The series, which began in 1988 at the University of New Hampshire's Institute on Disability/UCED, was modeled after Minnesota's Partners in Policymaking Series with later input from the Colorado Partners in Leadership Training. The eight-session long series is held from September through April, and provides parents with nonpartisan, state-of-the-art information and strategies to effectively impact local and state organizations on issues related to individuals with disabilities and their families.
More than 1,000 family members and adults with disabilities have graduated from the NH Leadership Series. These leaders advocate with service providers, use the legislative process to achieve change, and organize communities to support inclusion at every level.
Leadership graduates serve on school boards, family support teams and councils, judicial benches, local and state government, and other community boards. Nearly 100 graduates have served as state representatives and senators in the New Hampshire Legislature, and one graduate became the governor of NH and is now US Senator Maggie Hassan. When asked about their entrance into the world of leadership positions, many graduates point to the NH Leadership Series as a pivotal experience in their lives.
The NH Leadership Series and its graduates:
Create positive change by educating individuals most directly affected by laws, policies, supports, and services for people with disabilities
Pave the way for people with disabilities to speak for themselves and direct their own lives
Successfully advocated for bills that were passed into law by the New Hampshire Legislature by:

Creating a comprehensive system of family support
Reducing and eliminating the waiting list for adult services
Reducing the use of seclusion and restraint in schools
Working to create a new statewide organization, ABLE NH, devoted to improving the lives of people with disabilities and their families through grassroots community organizing
The Institute on Disability/UCED, in collaboration with the Developmental Disabilities Council, People First, the New Hampshire Bureau of Developmental Services, the NH Department of Education, and other organizations, sponsors the Leadership Series.
Leadership Topics
The New Hampshire Leadership Series was originally based on the Minnesota Partners in Policymaking model, with later input from the Colorado Partners in Leadership. The Leadership Series coordinator provides a set of readings and handouts for each session, as well as fieldwork assignments throughout the seven session Series.
Session 1: History of the Disability Movement in New Hampshire
This session describes the history of services for, and perceptions of, people with disabilities. A pivotal reading is the Roots of Exclusion. We learn of the power and influence of parents in the closing of the Laconia State School, the NH state institution for people with developmental disabilities. Participants learn about person-centered planning and begin creating their own maps. Participants are introduced to their home group which is their small intimate group designed to support each other for the remainder of the Series.
Session 2: Creating a Vision
In this session we hear from people who have thought bigger and "outside of the box" - beyond the traditional services offered -- and created a full life for their son, daughter, and/or themselves. The importance of futures planning and self-determination for people with disabilities becomes clear. The goal is to create a vision for yourself and your child (if you have one) and to work to define the steps to make that vision a reality. Participants also begin their work as a member of an Action Group.
Session 3: Community Organizing
It Starts with YOU! This session clearly identifies strategies for beginning and sustaining grassroots level organizing. The focus is on building allies and sustaining power in order to create change. Skills such as 1:1 interviews are practiced and polished.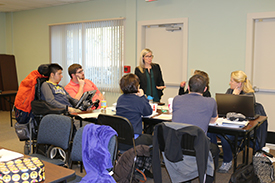 Session 4: Action Oriented
This is a one-day' work session' covering how to cut an issue from a large field of options for special education, community and other topics. We learn techniques focusing on creating impactful testimony.
We also work in action groups creating plans to accomplish goals and hone group process skills.
Session 5: Education for ALL
The benefits and values supporting inclusion and quality education for students with and without disabilities are presented in an interactive, personal, story-focused way. Specific strategies to achieve inclusion and quality education are demonstrated and practiced. Friendships play an important role in everyone's life and we develop the desire to figure out how friendships can happen.
Session 6: Annie Forts - It's a Good Life
Tools and options for a good life as an adult in the community are explored. The principles of choice and control of resources and futures planning are discussed by presenters who are using this option. Other topics for the weekend might include: the importance of community connections, transportation, post-secondary education as a choice for all people, the importance of supported, competitive employment opportunities, state-of-the-art technologies for people with complex disabilities, and home ownership/control as an option and one of the defining characteristics in our culture of adult life.
Session 7: The Legislative Process
By the end of this session participants understand how a bill becomes a law at the state and federal levels, have identified critical federal and state issues, and have met with legislators to discuss issues and concerns. They develop confidence and skills presenting their issues during several meetings with our state legislators.
Session 8: Culmination and Celebration
The grand finale! Each small group provides a presentation of their action group topic/issue. They discuss how they organized as a group to address the problem and what they learned about group process. A graduation ceremony and celebration end the Series... but this is only the beginning of the personal, local, and statewide changes that will be brought about by the graduates of this 7-month event!
Advanced Leadership Opportunities
Four Advanced Leadership Series have been offered to Leadership graduates for the purpose of exploring specific issues in a more in-depth way. These series have varied from four to nine days in length. Topics have included:
Managed Care
Special Education Funding
Self-Determination
Community Organizing
Graduates of the Advanced Community Organizing Series recently founded ABLE NH (Advocates Building Lasting Equality in New Hampshire), a statewide organization that advocates for the civil and human rights of all children and adults with disabilities and promotes full participation by improving systems of supports, connecting families, inspiring communities, and influencing public policy.