MTSS-B Behavior Support Team Retreats - Back to Basics
Facilitated retreats for district- or school-level Tier 2/3 MTSS-B or PBIS teams
FALL 2019: BACK TO BASICS: TIER 2 SYSTEMS, DATA, AND PRACTICES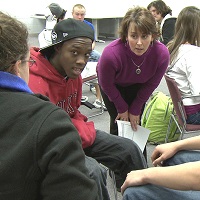 This session is for Tier 2/3 Teams to learn about or revisit the basic structures of successful supports and interventions for students with behavioral needs, including: 1) establishing your Tier2/3 Team mission, norms, and communication structure; 2) articulating the entrance and exit criteria and screening for Tier 2/3 supports; 3) how to use data and resources to identify your students' needs and appropriate small group interventions; 4) linking Tier2/3 supports to your Tier 1 system; 5) preparing and involving your students, parents, administrators, and staff to implement; and 6) implementation and progress monitoring. There will be ample time for teams to work on their individual plans.
WHO SHOULD ATTEND:
Teams implementing targeted/ Tier 2 & 3/ Behavior Support MTSS-B or PBIS. Attendance at both sessions is recommended but not required.
ABOUT MTSS-B:
Schools that implement a system of effective behavioral and academic interventions and practices have better educational outcomes and staff satisfaction. MTSS-B is an evidence-based framework designed to transform school environments to become less reactive through a team-based decision-making model and implementation of research-based practices.
The MTSS-B framework consists of three levels: Tier 1 (Universal), Tier 2 (Behavior Support), and Tier 3 (Intensive), each designed to prevent problem behaviors and address the behavioral support needs of students at risk of school failure. Behavior Support Teams match and monitor students who are not responding to schoolwide supports, increasing the level of support through function-based group interventions and simple behavior support plans.
Date & Time
Wednesday, October 30, 2019 -

8:00am

to

3:00pm
Registration Fee
$250 per attendee
Breakfast and lunch will be provided.
Event Contact