The Clinic Experience
Before your Clinic Visit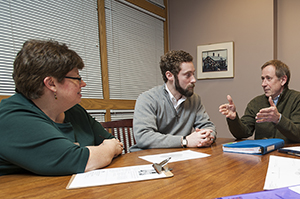 Best practices for developmental evaluation suggest that a team of people should observe the child in a variety of settings. Therefore, our team gathers information from home, school, and community settings and providers.
The home visit or phone interview is an important part of the Seacoast Child Development Clinic evaluation process. Children are most comfortable at home and parents provide important information for the team. After your initial application packet is completed and a clinic date is set, you will be contacted for a home visit or interview.
If you live within 40 miles of Durham NH you will be offered a home visit with the family coordinator. The home visit takes approximately 1.5 hours. The family coordinator will spend time with parent(s) to learn more about questions and concerns and play with the child to learn more about their development.
If you live more than 40 miles away, you will have a home phone interview with the family coordinator which will last about 45-60 minutes.
A phone interview will also be arranged with the child's teachers or service providers to gather their perspectives before your clinic visit. We encourage families to invite their community providers to participate as members of the child's team on the day of the clinic visit.
---
Clinic Day Events
On clinic day, team members take turns testing and playing with the child. Family members may stay in the room with their child or watch from behind a two way mirror.  They work closely with clinic staff  to provide additional information about their child. There are play breaks for young children, followed by a brief physical and consultation with our developmental pediatrician. This process takes about 1.5 to 2.5 hours. Following a brief break, the clinic staff will conference with the child's family and any community providers who are attending.  The team will discuss their findings and make recommenations for next steps.
---
Following Clinic
Families will receive a draft report within 3 weeks of your clinic visit. The Family Coordinator and clinic staff are available for questions and support by phone and email.